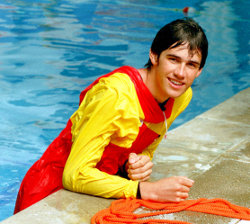 Mission Statement
The Free Lifesaving Society publishes free survival swimming and lifesaving training materials to teams worldwide, especially in developing countries where they are needed most.
Yes! It's Free
We're motivated by our mission for openness, innovation and opportunity on the Internet, rather than politics or business concerns like the price of books and videos.
You to have free access to our training resources without license fees. You may copy and share our content for educational use in your training classes under the following condition:
You must attribute the work to us via a weblink or a note on any printed material, but not in any way that suggests that we endorse you or your use of the work. Copyright remains with us. All rights reserved.
For more details go to:
creativecommons.org/licenses/by/3.0/
Did you know that the biggest danger to your life at the beach isn't sharks, or jellyfish, or stingrays?
Drowning is an international epidemic, killing more people each year than malaria, yet it is barely recognised.
Women seem to be smarter when it comes to water safety. Around 80% of casualties are men, which is why we focus on educating them via this website.
Most drownings occur in the world's poorest countries, which have either very limited lifesaving services, or none at all. In some areas drowning is the leading cause of child death. Read more.

Statistics (May 2012) show that drowning is the third most common cause of accidental death of children in England, mainly because many youngsters do not know how to swim.
According to a report by the Amateur Swimming Association (ASA), of those who cannot swim, around 200,000 school leavers, over a third (39%) have never been offered lessons at school. Read more.
Japanese police statistics show that 86% of people who drown are fully clothed. They were simply unprepared.
Swimming in clothes presents different challenges than a simple bathing suit. You should practice this with an instructor who guides you through the necessary steps. Read more.
All donations will be used to improve this website. You can support us by sending Bitcoins to:
1LoVWxTG3zTtW3kBHLRbHhsK8RKBYceLi5
Simply cut and paste above address into your Bitcoin wallet to send some. Thank you!
Our Amazon UK Shop
has all your swimwear and training kit. Any commissions go towards expanding and improving this website.
Thank you !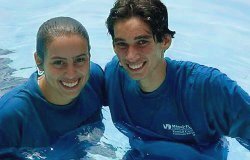 Lifesaving is a sport for everyone and a lot more fun than swimming up and down. It is a valuable community skill that could save lives. However, many lifesaving clubs focus on competitions or passing exams rather than training for real life survival. Find out more.
If you're in charge of a lifeguard team, run weekly staff training. Make it fun and challenging to keep your team motivated. Read more.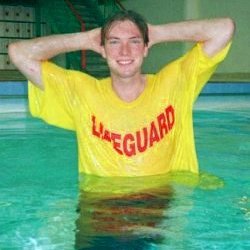 We are also planning to run conferences and seminars in regions that don't have good water rescue training support. More later.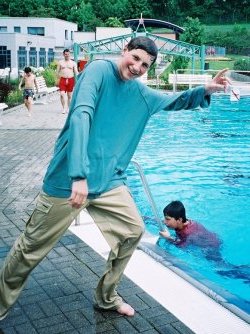 Help your community. Promote survival swimming and lifesaving through a local swim and rescue team. Free Lifesaving Teams are fun, simple and agile.
Many survival and lifeguard teams are very small, often just put together by the team leader. Some are part of hotel staff or a leisure centre, others are just a group of friends who love swimming.
Keep to an easy organisational structure, free from committees, governing bodies, and other such overheads. You don't need a complex swimming club structure. Run it all from your computer with email and social media, like twitter and facebook.
This website serves as lesson support system for your lifeguard teams and water safety classes. Find out more...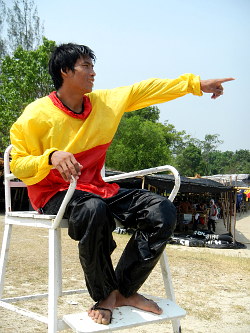 Drowning is preventable.
Your support may save lives.
After a few months of preparation, the Free Lifesaving Society was launched in Hong Kong in 2009 to provide free training materials to developing countries. Now we have friends and teams around the world.
We share technical expertise and training programmes to help communities and countries reduce loss of life through drowning, help establish independent lifesaving teams, provide teaching assistance, and support the global exchange of free lifesaving information and resources.
Some new concepts here may seem unusual at first, but give them a try and see what works for you and your team. Learn proven training methods for survival swimming and lifesaving.
Working Together
By working together with other organisations and businesses, we all can have more vision and more ideas about lifesaving. You can do that through your sponsorships, or your business, and your partnerships with us. When we all do that together, we can create a better and safer world to live in.
You can help by creating content for this website which is read by over 68,000 people every month (July 2012). Take a look around to find pages that need improvement. Please contact us with detailed suggestions and we make the requisite changes where possible.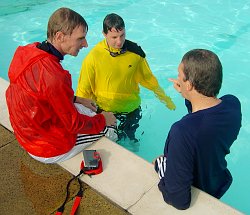 By accessing this website, you acknowledge, declare and agree that:
We shall not be responsible or liable in any way for any and/or all consequences that may be suffered by you as a result of using, or the inability to use, any materials or content on this website and no right of action shall arise as a result of reference to, or reliance upon, any information contained in, or omitted from this website. This also applies to all our events.
In providing links to other websites or resources, we do not in any way endorse the linked sites or resources or their respective contents nor shall we be liable for any content or material from those sites or resources.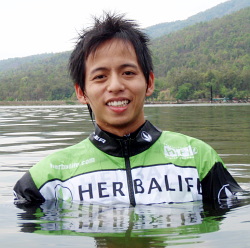 Our Amazon UK Shop
has all your swimwear and training kit.
Any commissions go towards expanding and improving this website.
Thank you !
We wish to say a big "Thank you" to all the readers who have sent us their encouragement and support, plus free photos and information from their survival swimming or lifeguard training.
We also thank our sponsors who help fund the Free Lifesaving Society:
VITAMINBIZ Herbalife Independent Distributors are our sports and nutrition sponsors. Their advice on health and sports nutrition keeps our teams going.
England's Medieval Festival organisers, the Malcolm Group Events Ltd, make a generous contribution every year to fund further development of this web site.
Intereliant provides us with free web-hosting and maintains the content management system we use.
Thank you all very much!
Without your help this web site might not have happened.
Bitcoins
You too can support us by sending Bitcoins to:
1LoVWxTG3zTtW3kBHLRbHhsK8RKBYceLi5